Strata Managers & Body Corporate Debt Collection Agency
Your time is better spent managing properties, not debtors.
Imagine not having to worry about or chase up owners that are not financially dependable.
When an owner is frequently in arrears, the situation will often remain in the status quo until your attack plan is changed. We can help. Using BCA Debt as your debt collection agency frees up your time as a strata manager so you can do what you do best.
You are not alone. We asked clients:-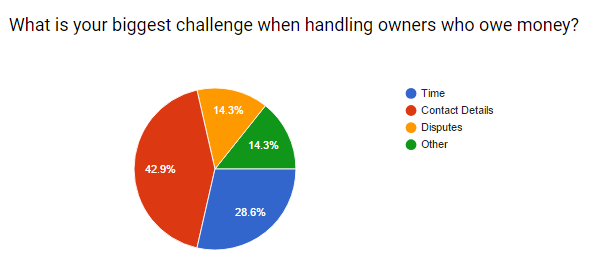 Sound familiar? Quickly solve issues with debtors and contact us today.
Strata Managers and Council of Owners Debt Collection Solutions
As most levies fall due on a three-monthly basis, we have streamlined our unique service to upgrade outstanding levy debts to include the new strata fees. This means clients won't have to continue sending us instructions. If the debt is still outstanding, we work with the Strata Manager to ensure recurring levies are collected.
The more funds that are collected, the less work there is for you!
We charge a small fee then commission on what is successfully collected. We always request your consent to go ahead with any extra work, including tracing people who have moved or making field calls.
If collecting a particular debt proves more of a challenge, we assess the deficit, give you our recommendations, and if advised, will collect the debt through the court system. All that's required is to provide us with instructions to proceed, and we handle the rest.
Our debt collection processes are rigorous.
At BCA Debt we use a dedicated and streamlined approach to collect outstanding accounts for Owners Corporations successfully. Our processes are rigorous and discrete. Our debt collectors have the industry knowledge, experience and necessary negotiation skills to ensure they achieve the best and quickest possible outcome for you and your business.
Our easy to use online client access system enables you to:
Instantly check balances on your outstanding debts
Send through updates on levies, additional contacts, payments received
View your current and previous statements
Add new debts for collection
Contact your collector via the query system
Owner's debts paid in full within three months is our aim.
Ideally, this will happen before new levies fall due. Conducting our credit collection services this way sends a clear message to owners they need to be prudent in their payments. As levies fall due, the debts can be updated with new fees (including interest) and added to the outstanding accounts. Having our debt recovery services operate in this fashion keeps the balance clear to the owner at all times, ensuring that the arrears are paid promptly.
All the fees can be added to the owner's levies ensuring the cost is not a burden to the Owners Corporation. We help with the requirements to add interest, debt collection and solicitor's fees to the owner's statement. Owners can pay directly to us, and we then forward you all the funds every month.
Experience shows that owners respond to being told they are responsible for the ongoing added costs, hence resolving arrears quickly is an agreeable approach moving forward.
BCA Debt utilises a full range of methods to alert the owners that payment is required. Below are some methods used:
Registered Letter of Intent to Summons, on BCA Debt letterhead
Personal Calls where a mercantile agent visits the owner
Full Court Action carried out by a dedicated solicitor
Skip Tracing, locating owners that have moved
Of course, these are carried out with your written consent after we provide a quote.
Improve your Owners Corporation's cash flow - engage our services today by filling out the form to the right.
Questions? We've got you covered.
1. What charges are there?
BCA don't charge additional fees for letters, emails, faxes or telephone calls. Many other collection agencies charge their clients for these simple services. BCA Debt charge a success fee on what is successfully collected.
2. Can I charge the debtor the collection costs?
Yes – According to the Strata Titles Act the Owners Corporation can charge 15% interest on outstanding levies.
3. How long will it take?
The length of time it takes to recover each debt varies and depends on the individual case.
- Age of the debt
- Accuracy of information
- Correct contact details
- Financial situation of the debtor
- Clients listening to our suggestions
Other factors that can influence the process are:
People's circumstances can change quickly, so it is important that as a strata manager or Owners Corporation representative you act quickly also. If there is a case where the owner has moved we may require a skip trace to be actioned. By using our specialised skip trace process and database systems, we can usually locate an owner quickly.
4. What is your success rate?
In every instance, without exception, we aim for a successful outcome by recovering the money rapidly. When it comes to levies we aim to have all debts paid off within three months, therefore a payment scheme may be arranged so the debtor can pay the amount in instalments. We are diligent with the collection of levies to ensure the owner does not fall behind in payments which can compound onto subsequent levies.
5. How do you collect the debts?
BCA employs highly skilled debt collectors who are natural negotiators. Once the debt is placed in our hands the collectors immediately get on the phone and start the process of getting the debt paid. They may send a letter or email to alert the owner if they were unable to talk to them immediately. The collectors are trained to work together with strata managers to sort out any misunderstandings between strata managers and owners.
6. What happens when a case goes to court?
Court action is not taken lightly and a decision is made on the merits of each individual case. When an owner becomes delinquent in their levies and payments, your collector will discuss recommend commencing Court action. All the evidence is gathered and sent to our solicitors to instigate the legal procedure. The collectors follow this process from beginning to end for their clients.
9. Will issuing a debt affect the debtor's credit rating?
When your debtor pays the debt in full, their credit rating will not be affected. If the case goes to Court, and judgement is found for the plaintiff' (the creditor), this would be recorded and would affect the debtor's credit rating.
Previously before using BCA Debt, we followed up on outstanding levies ourselves. We were never able to get the funds out of some of the owners due to location, or just ignoring our requests. There was never any way of being fearsome, but debt collectors can and can enforce legal action. BCA Debt has taken the emotion away from me to get on with more imperative responsibilities. Using your services saves me time in not needing to follow up on owners outstanding levies. I already have recommended your services to others and I always will as I cannot recommend you highly enough. The best feature of your services is that you only charge when payments are made and never charge when a debt does not get paid, and you find people as well. I am tremendously pleased with your services, you provide a fantastic service offering excellent advice and I am always happy with BCA Debt.

Armadale Strata Management

Before using BCA, we were not able to get funds out of the owners, due to not knowing their location. Since using your services, there have been positive results, and the emotion from following this up myself has disappeared. The money that is coming in now from the owners, means that the Strata Complex now has the funds to do what is needed to be done and has taken the financial burden away from the other owners. I will always recommend you guys. You always keep me informed of what is going on.

Owners Of Strata Plan 12127

Prior to using BCA, we were always chasing owners for money. There was no way of being intimidating. BCA has taken the stress away from me in order to get on with more important business. Using BCA Debt's services saves me time in chasing the owners and they are very time effective. I already have recommended your services to others. The best feature of your services is that you only charge when payments are made. I am extremely happy with your services, as I have been a client of yours for many years, and much more to come.